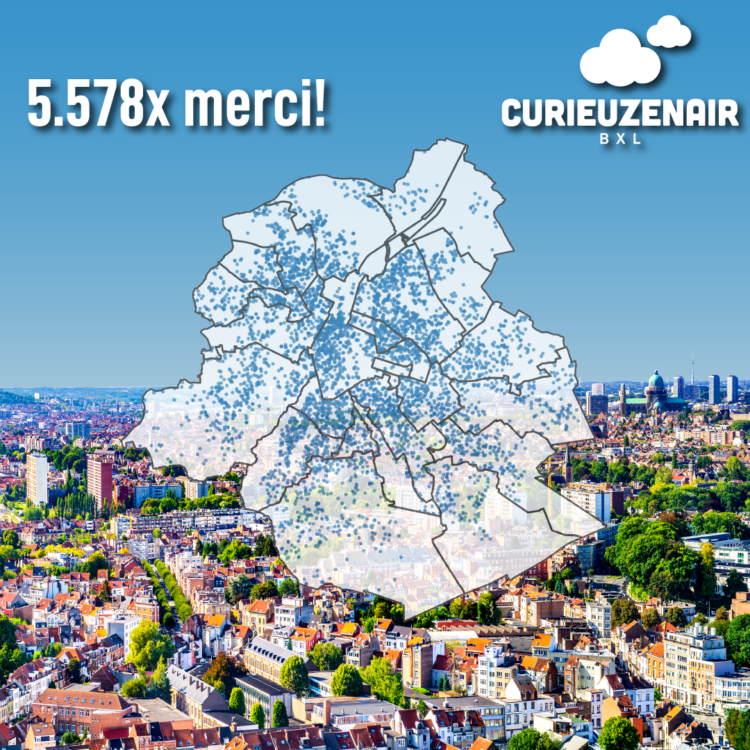 The people of Brussels are clearly stoked to help map the air quality. At the closing of registrations for CurieuzenAir BXL on Sunday 13 June, the counter stood at 5,578, far exceeding the 3.000 available kits to measure the air quality in your own street during the month of September. Moreover, the candidate measurement locations turned out to be well distributed across all 19 municipalities of the Brussels region. A computer algorithm made a selection of 3.000 measurement points based on scientific criteria. The CurieuzenAir citizens' network is the largest air quality measurement network ever to be realised in a European capital.
We are very pleased with the number of registrations. "This shows that the theme is alive and well among the people of Brussels. Families and schools want to know what the situation is in their street, and many companies are also committed to getting an idea of the air quality in which their employees commute every day." says Professor Filip Meysman, CurieuzenAir project coordinator. "The many candidate measuring points are also a great scientific asset. Out of all applications we were able to select a dense network of 3.000 measurement points, which will give us a very detailed picture of air quality throughout the Brussels region.
Among the 5.578 candidates:
102 schools
327 companies and organizations
5.149 private persons and families
The 5,578 candidate sampling points are well distributed across the Brussels region. "Citizen science projects sometimes have difficulty finding participants in highly diverse neighbourhoods," says Meysman. "We are therefore very happy that we have a large number of candidate measuring points in Molenbeek, Anderlecht and Schaarbeek. The CurieuzenAir project therefore aims to be a project for and by Brussels residents from all walks of life. "Four out of ten Brussels residents are socio-economically vulnerable. We think it is very important to involve them in this research because they are proportionally more severely affected by air pollution." adds Florence Lepoudre of the BRAL urban movement. Florence adds: "By cooperating with medical centres, community centres and anti-poverty associations, we have been able to set up more than 200 measuring points for and with this target group".
During the campaign, social media also specifically called for measuring points in less populated areas, such as Haren and Neerpede. "This has worked well", says Meysman "We are, for example, very happy that we can install a measuring point on the training ground of RSC Anderlecht in Neerpede, because this fills a blind spot on our map". The area around the Brussels Congress and the European quarter is also a "difficult area" with many offices and little residential development. "But here, too, we have found interesting measuring points" says Meysman "For example, the resident of 16 Wetstraat has signed up as a candidate measuring point. We are pleased that the Prime Minister wants to do his bit to map out the air quality in Brussels."
3.000 measuring points
For all applications a computer algorithm was used to select the 3.000 "best" measuring points for a detailed air quality map of Brussels. A geographical spread across Brussels, variation in street types and traffic intensity, and whether the street has a closed or open construction are all taken into account. In order to have a standardised measurement, priority was given to measurement points with a street side window on the first floor.
From 25 September 2021 onwards, participants will place a real estate agent's sign with two measuring tubes at the window of their home or office. This measurement set-up will remain in place for a month in order to measure the amount of NO2 in the outside air. The data from all measuring points will be used to map the concentration of NO2 in all the streets and neighbourhoods of Brussels in detail, thereby improving the existing computer models for air quality. This way, health effects can be better estimated and policy makers have access to accurate information for the implementation and adaptation of policy measures.
The results of the measurements will be published in February 2022 via an interactive dot map on the websites of media partners De Standaard, Le Soir and BRUZZ. Participants will simultaneously receive a personal measurement report with the results of their own measurement point.