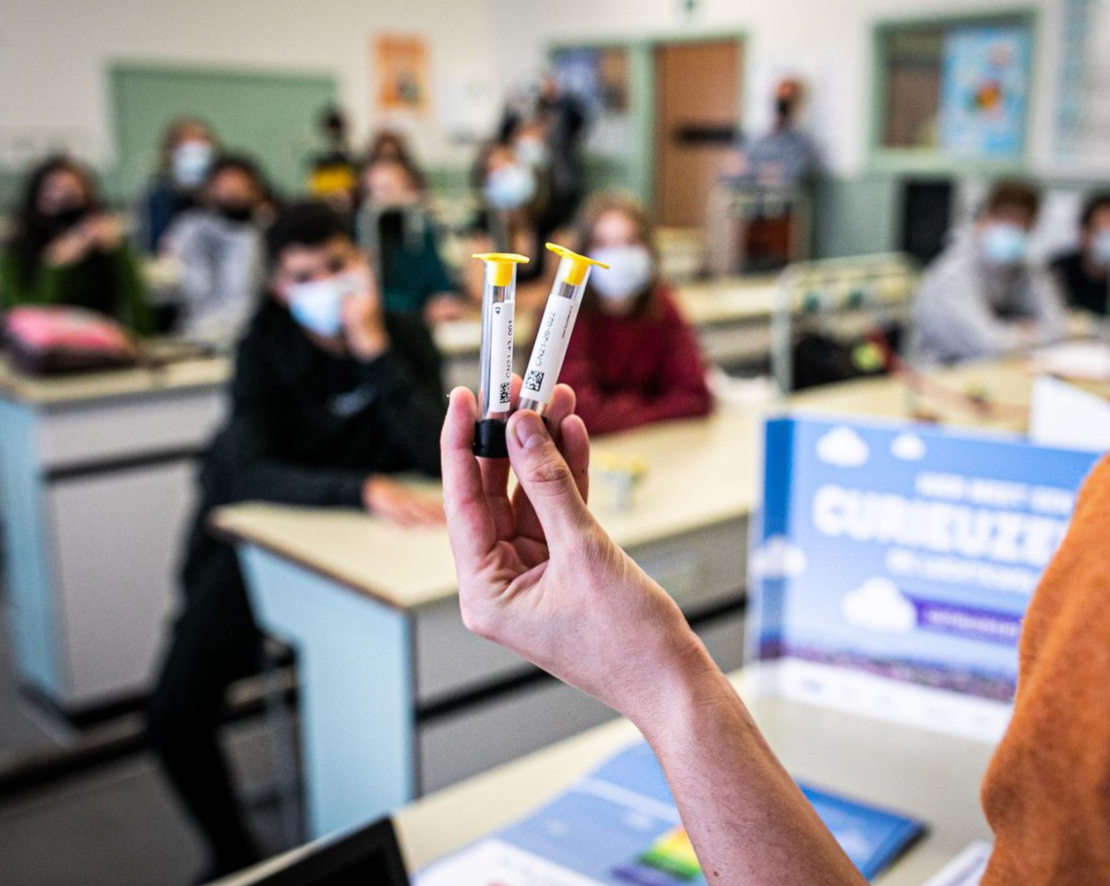 After four weeks of measurements, the largest citizen science project on air quality in Brussels will end on 23 October. Participants will remove the measuring panels from their windows and return the tubes to the laboratory for analysis.
If you passed by Brussels last month, you could hardly look past the blue CurieuzenAir panels in the streets. 3.000 Brussels residents put up a measuring panel on their window to gain more insight into the air quality in their street.
On 23 October, the measurements were completed and the participants returned their measuring tubes for analysis. In the laboratory, the total quantity of NO2 'captured' in the measuring tubes is determined, after which the average concentration of NO2 in the outside air can be calculated. The measurement results then undergo a strict quality control and are calibrated against the measuring stations of Brussels Environment.
In March 2022, the results will be announced via an interactive dot map on the websites of De Standaard, Le Soir and BRUZZ.
What should you pay attention to when you return your tubes on 23 October?
Remove your panel from the window and close the tubes
On Saturday 23 October you take the measuring plate from your window. Take the tubes from the panel and close them with the yellow caps. Put the tubes in the return envelope.
If you no longer have the yellow caps, use a piece of masking tape or paper tape to close the tubes. Do not put any solid objects in the tubes!
Don't have a return envelope? Or one without a DPD label? Please let us know here. We will send you a new DPD label by e-mail, which you can stick on another envelope.
Tell us when you stopped the measurements: we strive for every CurieuzenAir to remove the measuring board from his or her window at 9 o'clock in the morning on 23 October. Let us know via the link in the email you received from us when you removed your measuring board.
Bring your tubes in the return envelope to a DPD Pickup point of your choice.
It is important that you bring the tubes in the return envelope, on the 23rd of October, to a DPD Pickup point of your choice. This way, the tubes will arrive in time at the lab for analysis. Do not put them in a red bpost box: they could get lost.